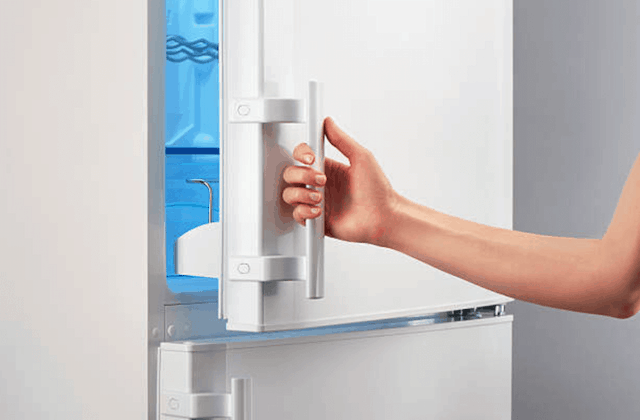 CALL TODAY:
(707) 368-4257
It is necessary to deal with a problem with eh refrigerator immediately because of the importance of this appliance. It is what is going to hold and keep the dairy, meat, produce, and other cold goods fresh before they can be consumed. If the issue is not promptly addressed, it can end up in a whole refrigerator full of food that becomes spoiled and in the garbage. This is why calling us is a great idea because our same-day service can help to make sure that doesn't happen.
Pride Vacaville Appliance Repair is the right company to call because of the lifesaver our same-day service and our ability to fix most appliances on our initial visit. We understand the importance of getting a refrigerator fixed as fast as possible and we want to make sure that our customers don't have to throw out any of the food that they have in their refrigerators.
REFRIGERATOR REPAIR
Loud/Constant Noises
This common problem can be caused by the condenser fan motor (coming from the refrigerator) or the evaporator fan motor (coming from the freezer). If it is possible, we ask that our customers try to determine if the noise is coming from the freezer or refrigerator to make sure that we have everything that we need to fix it. This is one of the most common problems people experience with their refrigerator units.
Water Leaks
There are one or two different causes for this. The first is that the water inlet valve is broken, and the other is that there is an issue with the door closure or latch. No matter what the problem is, we are going to have the necessary parts and tools in the service van.
Won't Start
Before doing anything else, make sure that the fridge is plugged in and the circuit breaker is properly working. Once the caller is sure that it is not one of these obvious problems, the phone call to us can happen. We know that there are 2 other reasons why this happens, a temperature control malfunction or a broken compressor overload relay.
Ice Maker Won't Make Ice
We can definitely address that broken ice maker. There are a few reasons why they can malfunction, and we thoroughly understand them. These causes can be that the water fill tubes are broken, the temperature control in the freezer is broken, or the water inlet valve is broken. We can handle all of your ice maker problems.
Fridge Too Cold/Too Warm
Though it is a serious problem, it is very common for a refrigerator to develop temperature issues. We can deal with this problem on all the major brands and models on the market. A refrigerator that is too warm is usually due to a bad air inlet damper. If it is too cold, a bad thermistor or temperature control is probably the culprit. The same goes for a freezer that is too cold.
Broken Water Dispenser
This is one of the rarer of the problems that we come across, but that doesn't limit our ability to take care of it. We come prepared with the various tools and parts we need to fix this issue on almost all refrigerator brands. We are equipped to handle even uncommon issues like this. The most likely cause of this issue is that the water inlet valve or the dispenser actuators are not functioning properly.
Door Latch/Bulb Problems
A damaged or faulty refrigerator door can result in a loss of temperature and, thus, a loss of the food that is in the refrigerator. Groceries are not cheap, and this can result in quite a lot of money being wasted. It can also cause leaks and condensation problems. We can deal with the gaskets, seals, and hinges that may need to be replaced and while we are there we can easily replace blown out bulbs.